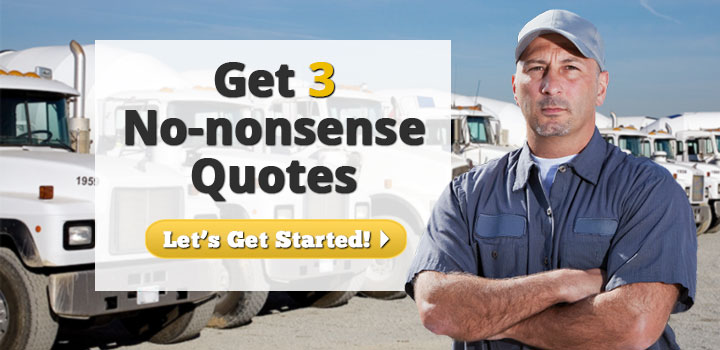 Trying to find insurance for your concrete pump truck? Don't just get one quote, get three. When you fill out our one simple form, we connect you with three agents who will compete for your pump truck insurance.

Construction Companies Need Insurance
Whether you use a boom concrete pump or a line pump, there are unique hazards that go along with pumping a high volume of liquid concrete across a long distance. If you miscalculate the change in weight distribution, your pumper will tip over. Your workers' fingers are liable to get caught while handling the chute. You need insurance that protects both your concrete pumpers and your workers.
Insurance Protection for Truck-Mounted Concrete Pumpers
Your insurance agent will offer you several different coverages in your insurance package. It's important to review each coverage and determine whether it pertains to your business. Some of the common coverages for concrete pump trucks are described below
Automotive Liability Insurance – Since concrete mixers and truck-mounted concrete pumpers can weigh over 70,000 pounds, they do catastrophic damage when they crash into something at full speed. It isn't rare for a concrete pumper accident to cause upwards of a million dollars in damage. When your driver is at fault, the liability falls onto you and your business. Commercial auto liability pays for these sorts of accidents. It pays for repairs to property and for any hospital bills incurred by other motorists or pedestrians.
Physical Damage Insurance – Accidents often happen at the mixing plant or at the construction site. Your truck backs into the loading area. Your driver parks on uneven terrain and the truck tips over as you're discharging the batch. Physical damage coverage pays for repairs to your truck-mounted concrete pumper if it's damaged in an accident.
Uninsured/Underinsured Motorist Protection – When another vehicle is at fault in an accident, they're responsible for any damages you accrue. However, most personal auto liability insurance policies don't cover something as expensive as a concrete mixer. You are unlikely to get full payment for repairs to your property. That is unless you have uninsured/underinsured motorist protection.
Insurance Protection for Drivers and Pumper Operators
Auto accidents are common, but they're nowhere near as common as workplace injuries. According to elCOSH, 1 in 10 construction workers will be hurt in the workplace this year. Some of the common injuries include:
Pain from lifting incorrectly.
Slips, trips, and falls.
Exposure to wet concrete, which results in chemical burns and lung irritation.
Exposure to silica, which results in skin and eye irritation.
Heat stress while cleaning out mixer barrels and equipment.
You can reduce your liability for these common injuries by purchasing workers compensation insurance. In fact, if you're a construction company and you have even one employee on the payroll, it's almost always a legal requirement for you to get workers' comp.
How to Reduce On-Site Risk
Reducing the number of accidents on your site will reduce the average price you pay for insurance. It's crucial that you hold regular safety meetings with your workers and that you maintain a no-tolerance policy for unsafe behavior.
Use care with the load out chute
Double-check that back-up alarms are all functioning
Safeguard against hot surfaces
Have employees wear appropriate equipment, like safety glasses when placing concrete
How to Save on Concrete Pump Truck Insurance
The best way to get a good quote on concrete pump truck insurance is to simply shop around. We've made this easy. Just fill out one short form and we'll connect you with three agents who can help you get your company covered.