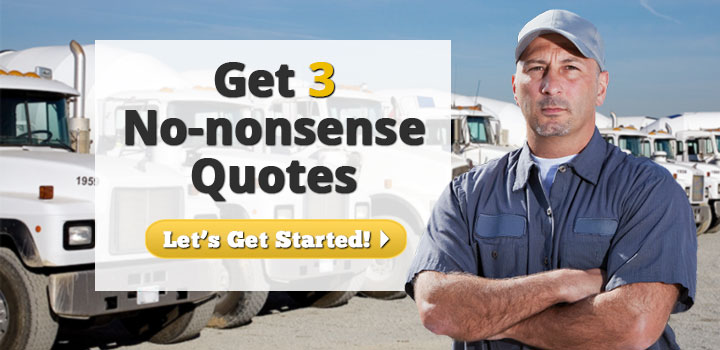 Want to save big on your insurance? It's easy. Get 3 quotes, compare prices, and pick the best deal!

How much does cement truck insurance cost?
One big cost in general contracting is getting insurance for the trucks. As you shop, it's crucial you know the average cost of concrete truck insurance so that you can get the best deal.
Commercial auto liability insurance for cement trucks depends on many factors, but most policies average somewhere between $1750 to $3000 per cement truck per year. A full policy for a start-up concrete contractor, with just general liability, auto liability, and workers' comp, can cost between $7800 and $15000 per year.
What determines your rate?
How much you pay for concrete transport insurance depends a lot on your business. Larger businesses with more trucks will pay more for insurance than smaller businesses with just one or two vehicles. That's fairly obvious. But more goes into it than just that. We've outlined a few of the things insurance agencies look at when quoting you for cement hauler insurance.
Your radius of operation – By necessity, most concrete hauler operations don't travel very far. But if for some reason you travel outside a 75-mile radius or you travel out of state, you can expect to pay a little more for insurance.
Your location – Do you do construction jobs in the city or in the countryside? It matters. Companies that do business in mostly urban environments tend to pay more for insurance than their rural counterparts.
Your business experience – The older your company, the cheaper your insurance. This can be tough on younger general contractors. But keep your chin up. As your business ages, your insurance rates will drop.
Your loss history – Have you had any major accidents? If not, you're in luck. A construction company that has never had to file an insurance claim pays less, on average, than a company that has seen several accidents.
Your coverages – Most owners of sand and gravel haulers and concrete agitators will require commercial auto liability and general liability. These coverages are the foundation of an insurance policy. Under certain conditions, you will require additional coverages. Businesses with several employees need workers compensation insurance. If you own the concrete batch plant, you will also need special coverages.
Your assets – It should come as no surprise that newer, nicer cement mixers are more expensive to insure than older models. If you're considering buying new, be sure to factor in the added cost of insurance.
The average cost of cement truck insurance coverages
The price of your company's insurance is determined largely by which coverages you choose. Some coverages, like physical damage insurance and umbrella insurance, are mostly optional. Removing those coverages from your policy will cut down your costs.
| | |
| --- | --- |
| Coverage | Average Cost |
| Primary Liability | $1750-3000 |
| General Liability | $500-1500 |
| Umbrella Policy | $1000-2000 |
| Physical Damage | $500-3500 |
| Workers' Comp | $4000-7000 |
| BOP | $500 |
Ways to reduce concrete transport insurance costs
Everyone wants a cheaper rate on insurance. Thankfully, there are steps you can take today to reduce your cost. We've outlined the biggest ones here.
Shop around
The single best thing you can do to save on concrete transport insurance is to shop between multiple agents at once. This gives you a complete picture of what insurance companies have to offer. The easiest way to get multiple quotes together is to fill out this form. After you enter some basic information, you get connected with three insurance agents who specialize in contractor insurance. They compete and you save.
Pay your premium in yearly installments
Another easy way to save is to choose the cheapest payment plan. Insurance agencies can slash a percentage off your premium if you agree to pay the entire bill at the beginning of the year. If you don't have the funds to do that now, consider putting money aside so that you can begin a concentrated payment plan next year.
Enroll your drivers in a safety program
After an accident, your insurance premium will go up. So one of the best ways to prevent higher premiums is to mitigate the number of on-site accidents. The only way really to do that is to set up a thorough safety program and ensure that your employees follow it to the letter. You have to be even stricter than you already are. Not only will a robust safety program save you on insurance, but it could save your drivers' lives.
Hire only reliable drivers
Before you sign on any new drivers, be sure to review their driving history. Insurance companies like to see drivers with few accidents and a long CDL history.
Bundle your coverage
Landscapers and construction companies face a lot of risks and must insure multiple aspects of their business. It's a smart idea to bundle all these different coverages under a single provider. Insurance companies will often offer discounts to businesses that package all their coverage through just them. That means getting all your in-transit mixers and pump trucks under the same policy as your business insurance.
Why is cement truck insurance so expensive?
Concrete haulers pose a larger risk than other common construction vehicles. This is due in part to their high center of gravity. Cement trucks are much more likely to tip over, especially when traveling over bumpy dirt roads. And since drivers must deliver their load before it hardens, they will often drive faster and more recklessly than they should.
General contractors see more accidents than almost every other business out there. That's why it's so important to shop around for insurance. You need to find an agency that not only can give you the best price, but that can protect you against anything that might come your way.