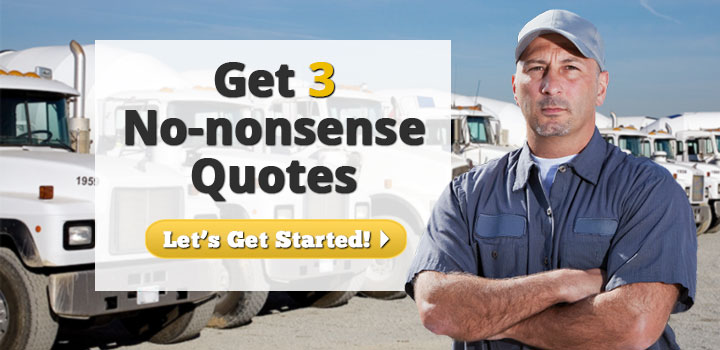 Looking for a quote on concrete mixer truck insurance? Get in touch with three agents at the same time. Compare their quotes and save!

Get an Insurance Quote for Your Concrete Mixer Truck
Construction sites are dangerous places. OSHA says that, quote, "over 10% of employees at construction sites are hurt in a job-related accidents each year." A big portion of these injuries come from vehicle related incidents.
High center of gravity makes rollovers common.
Concrete mixers often drive over unstable, uneven, and steep surfaces.
Drivers are often racing. They have to make it from their wet plant to the construction site before the concrete hardens. Safety is often compromised if they're running late.
Since concrete mixing trucks can weigh over 70,000 pounds, they can cause much more damage than typical commercial vehicles.
So if you're an independent contractor, small construction company, remodeling company, landscaper, or mason, getting a rock-solid concrete transport truck insurance policy for your business is a no-brainer.
What Coverages Are Available for Concrete Mixing Trucks?
Automotive Liability Insurance – Since concrete trucks are so heavy, they can cause outsized damage to other motorists and others' property. That's why business owners in all fifty states are required to insure their concrete mixers with automotive liability insurance. This coverage includes bodily injury protection, which pays for any injury sustained by a bystander, and property damage, which pays for any damage done to others' property as a result of an accident caused by your driver.
Medical payments – This insurance protects your drivers on the road and while they're operating the mixer truck on the job site. If a driver or passenger is harmed, this insurance pays for any related medical expenses, paid leave, or death benefits.
Physical damage insurance – Any damage sustained by a concrete mixer truck is covered under physical damage insurance. Some common accidents this covers includes tipping over, backing into the plant while loading or unloading concrete, and collisions on the road
Workers comp – In addition to the threats posed by driving the vehicle, your workers face countless dangers on the work site. Workers compensation insurance protects your workers from
eye, skin, and lung irritation caused by exposure to cement dust
chemical burns
slips and falls
How to Save on Concrete Transport Truck Insurance
Concrete mixer insurance quotes are often high because construction sites and mixing plants pose such great risks to employees. Luckily there are certain things you can do to reduce the cost of your insurance
Stay safe – The fewer accidents you report, the lower the cost of your insurance.
Pay your deposit up front – If you pay a percentage of your premium at the beginning of the year, the insurance company will cut you a discount.
Bundle coverage – Bundle your auto insurance coverages with your general liability and business coverages at the same insurance company for another discount.
Compare prices – The easiest way to lower your price without compromising your coverage is to shop between multiple agents.
Get 3 Quotes on Concrete Truck Insurance
Get three quotes on concrete truck insurance after filling out just one form. We connect you with three agents and they compete for your business. Get started now.