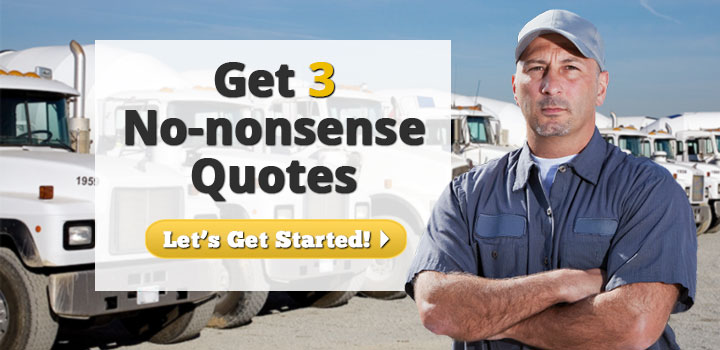 Do you need insurance for you mix-in-transit concrete truck? We can get you in touch with three agents at once after you fill out just one simple form. They compete and you save.

How to Find Cheap Mix-in-Transit Truck Insurance
Construction is one of the most expensive businesses to insure. First you have to pay astronomical rates for workers compensation insurance, and then you have to insure each individual construction vehicle you use on-site. Mix-in-Transit trucks are especially expensive to buy insurance for. Drivers are often in a rush from the wet plant to the delivery site so that the concrete doesn't settle in the drum. This is a huge safety hazard because drivers often forget that the center of gravity for these monsters is much higher than in normal vehicles. Collisions are common. Roll-overs even more so. Insurance companies charge high rates for mix-in-transit insurance because this is a risky business.
However, not every policy costs the same. There are certain things you can do to lower how much you pay for mix in transit insurance. But first it's useful to know how insurance companies calculate their rates
How Mix-in-Transit Truck Insurance is Calculated
Insurance companies have complicated formulas to calculate how much you pay for a policy. For construction companies, the primary things they look at are:
Your location
The number of mix-in-transit vehicles you use
The age of your business
Your exact type of business
How many accidents you've been in
5 Ways to Get Cheaper Mix-in-Transit Insurance
1. Request a higher deductible – Following an accident, you are required to pay the insurance company a certain fee. This is called your deductible. Your deductible can be $1,000 or $25,000. It's your choice. Larger deductibles reduce the overall rate you pay for insurance… but it could cost you in the long run if you ever get into an accident.
2. Pay your deposit at the beginning of the year – Instead of paying month to month, consider paying a large chunk of your overall premium at the beginning of the year. Some insurance companies offer discounts when they get their money upfront.
3. Bundle coverage – It's tempting to buy your insurance coverages piecemeal. An auto insurance policy from one company, a general liability insurance policy from another. Don't. Insurance companies offer big discounts to businesses who bundle all of their coverage through them.
4. Avoid accidents – This doesn't lower your rate immediately, but it'll keep your prices from suddenly increasing. Teach your employees safe practices and make sure they follow them. An accident-free worksite is much cheaper to insure than one prone to disaster after disaster.
5. Shop around – The easiest thing you can do right now is to shop around. There are several agents out there who want to write policies for small construction companies and private contractors. When you compare multiple quotes from several agents, you inevitably find the best price. The trick is finding the agents.
We've made this part easy. Fill out one simple form and we connect you with three agents at once. They offer you their best deal and you choose whether to take it or leave it. Get started today!